Massage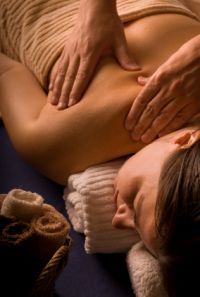 Massage is a non-invasive method of enhancing muscle function and improving the body's natural ability to heal itself. Our licensed massage therapists have many years of experience, and have complete many different types of massage and manual therapy educational courses. Our massage therapists are not only skilled in deep tissue/sports massage and relaxation massage, but have collectively completed numerous courses in; myofascial release and muscle energy techniques. Call today for more information or to schedule an appointment.
Benefits of Massage include:
Increases circulation allowing the body to pump more oxygen and nutrients into tissues and vital organs.
Stimulates the flow of lymph, the body's natural defense system against toxic invaders.
Relaxes and softens injured and overused muscles assisting in reducing cramping and spasms.
Increases joint flexibility
Reduces recovery time, helps prepare for strenuous workouts and eliminates subsequent pains of the athlete at any level.
Releases endorphins- the body's natural painkiller- and is being used in chronic illness, injury and recovery from surgery to control and relieve pain.
---
Simply therapeutic - Thank you so much.
Jasmine R. - Beachwood
All Services